On 10/6/12, I was sitting in my room with my laptop open attempting to
watch general conference. I was listening to the prophet speak when
all of a sudden, the stream stopped. It looped back to a few minutes
before when the Mormon Tabernacle Choir was singing. I was confused at
why this was happening (I tend to not be overally tech savvy). I began
trying to fix it, but was struggling to find success. All of a sudden,
my siblings burst through my bedroom door. They excitedly said to me,
"Carol! You're going on a mission!"
I was pretty confused about this statement. They dragged me out into the
living room, rewound conference, and allowed me to hear President
Monson's announcement of lowering the age of missionary service to 19
for sisters. There was an undeniable spirit that overcame me, and I
knew that I was supposed to serve a mission. I KNEW that I needed to
begin preparing to serve a mission immediately. 24 days before my 19th
birthday, nontheless.
Fast forward a few weeks, I had began meeting with my singles ward
bishop, started studying preach my gospel in depth, and made
appropriate appointments to get my paperwork completed. I kept a
journal of what I was studying, feeling, etc. One day, I decided to write
down a list of the best things I ever did to prepare for a mission. My
number one on my list said this, "Move on to Relief Society."
When I turned 18, I was in the very beginning of my senior year. At
this time I was faced with a decision to make: Stay in young women's,
or move on to Relief Society. When contemplating, I knew that, most
likely, none of my friends would move on to Relief Society. After some
prayer, I decided that I would move on to Relief Society.
The months that would follow were a time of much growth. My mom had
callings that prevented her from coming to Relief Society every week,
so I would sit alone. It's never easy to have to sit alone. It often
makes you question your decisions and makes it hard to want to stay. I
was also assigned to be a visiting teacher. My companion was the
first counselor in the Relief Society and I was given one lady to
visit every month. Often times I had thoughts of, "Why am I even a
visiting teacher? There is nothing that I possibly have to offer to
help this woman and her family."
What came out of this was not any amazing "ah-hah!" experience. It was
hard. My companion made me set up visiting appointments. She
had me share the thoughts. She EXPECTED me to do it every month. My
incredibly busy high school schedule made it almost impossible. But, I
did it. I am so grateful I did.
Now back to preparing for my mission. At this time
I wrote in my journal, "Do not focus on what is different about you
and others. You will meet lots of people different from you on your
mission. Learn how to deal with these situations." From this difficult
growing situation, I learned a lot. I felt inadequate EVERY time I
went visiting teaching. I felt like I couldn't relate to the older
sisters in my home ward. What I learned was that this was an
experience that I absolutely needed to prepare me for my mission.
This women's broadcast recently, I distinctly heard from two different
speakers about young women and Relief Society. President Eyring said:
"As you feel of that great sisterhood, what we thought divides us
falls away. For instance, younger and older sisters share their
feelings with the expectation of being understood and accepted. You
are more alike as daughters of God than you are different.
With that view, young women should look forward to their entry into
Relief Society as an opportunity to enlarge their circle of sisters
whom they will come to know, admire, and love
."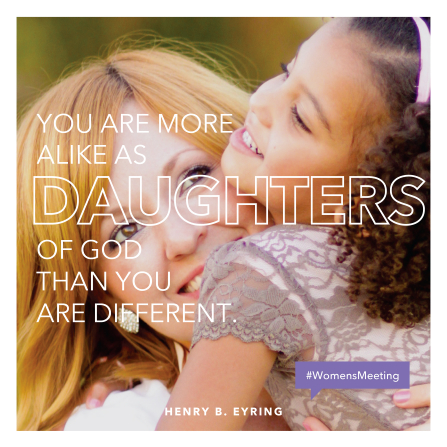 Sister Bonnie L. Oscarson also said, "I think of the great help that the sisters in
Relief Society can be in welcoming young sisters who have recently been in
Young Women. Our young sisters frequently feel as if they don't have a place or
anything in common with those in Relief Society. Before they turn 18,
they need Young Women leaders and mothers who will joyfully testify of
the great blessings of Relief Society. They need to feel enthusiastic
about becoming part of such a glorious organization. When young women
begin attending Relief Society, what they need most is a friend to sit
next to, an arm around their shoulders, and an opportunity to teach
and serve. Let us all reach out to help one another through the
transitions and milestones of our lives....If there are barriers, it
is because we ourselves have created them. We must stop concentrating
on our differences and look for what we have in common; then we can
begin to realize our greatest potential and achieve the greatest good
in this world. Sister Marjorie P. Hinckley once said, 'Oh, how we need
each other. Those of us who are old need you who are young. And,
hopefully, you who are young need some of us who are old. It is a
sociological fact that women need women. We need deep and satisfying
and loyal friendships with each other.' Sister Hinckley was right;
oh, how we need each other!"
I guess my purpose behind writing this post is to all young women.
PRAYERFULLY consider moving onto relief society. If you are thinking
about going on a mission, I would absolutely recommend moving on. It
did more for me to prepare me for a mission than almost anything else.
That's why it made it to the top of my list of things that helped me
prepare. Not only do I recommend it, but the leaders of our church do
too. Mothers and leaders should encourage young women to move on. It
is the greatest organization that we could ever be blessed to be a
part of! Just remember: We are more alike than we are different!
I have a testimony of Relief Society. It is a great organization! I
know that this church is true! We are so blessed to have a living
prophet on the earth today. I look forward to hearing from our Prophet this
week in conference. This church truly has been restored again on the earth!
These things I can truly testify of!